Top 5 Trending Eid Dresses for Women in 2023
Eid is a special occasion that brings joy and celebration to the hearts of millions of Muslims worldwide. It is a time when families and friends come together to celebrate the end of Ramadan and mark the start of a new lunar month. One of the most crucial aspects of Eid is dressing up in traditional ethnic clothing, which adds to the festive atmosphere of the occasion. In this blog, we will discuss the top five Eid dresses for women.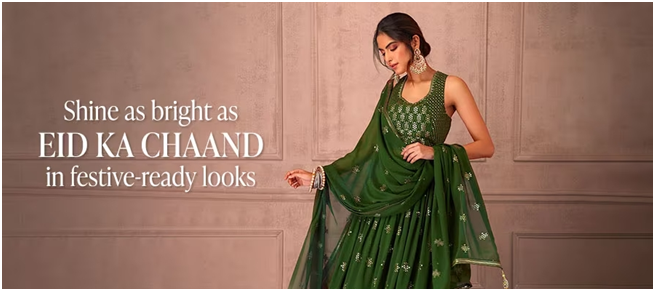 Top 5 Trending Eid Dresses for Women Online:
Anarkali Suits:
In ethnic fashion, only a few outfits can match the timeless elegance and grace of the Anarkali suits and gowns. These beautiful, flowing dresses are a feast for the eyes with their intricate embroidery, delicate fabrics, and enchanting designs.
Anarkali suits are a true celebration of femininity, with their figure-hugging tops and flared bottoms. Whether you opt for a rich, opulent silk or a soft, breezy chiffon, these dresses can make you feel like a queen! Whether you prefer a classic, traditional look or a modern, trendy twist, an Anarkali suit is the perfect Eid outfit for any fashion-conscious woman.
Green Dresses for Women:
Green colour is traditionally associated with Islam. That's why ethnicgreen dressesfor women are the most popular choice for Eid festivities. If you're looking to embrace the timeless trend of green dresses for Eid, you're in luck! There are plenty of stylish and trendy options to choose from online. Here are a few of the top trending green dresses for Eid in 2023:
Green Maxi Kurta Dresses: Flowy and comfortable, maxi dresses are an excellent option for Eid celebrations. Look for a green maxi Eid dress with a fitted top and a flared embroidered skirt for a flattering and feminine look.
Green Embellished Dresses, such as sequins, beads, or thread and mirror work, are a great way to add extra sparkle and glam to your 2023 Eid OOTD. Opt for a dress with embellishments around the neckline or hemline for a subtle yet eye-catching effect. Think embroidered Green lehenga choli sets, embellished Angrakha kurtas, long drape kurtas, and green designer sarees.
Gown Dresses:
Gown dresses are always in demand because of their regal charm. Gown dresses for women are often associated with elegance and sophistication, making them the perfect choice for not just Eid, but any festive occasion or celebration. They are super comfortable and command the attention of onlookers, with their fitted bodice and flowing skirt creating a flattering and graceful silhouette.
Floor-length Anarkali gowns, embroidered gowns, saree gowns, and gowns with draped dupattas are some voguish Eid gown styles- you must check out!
Sharara Sets:
Sharara sets are a popular choice for Eid and are ideal for women who want to wear something different from typical traditional Eid dresses like salwar kameez or kurtas. Sharara sets consist of a long tunic top and loose pants that are fitted at the waist and flared at the bottom.
The contagious vibrancy of Shararas makes them an intriguing choice for women who want more than just outfits for celebrating Eid. Pick embroidered shararas, printed peplum top and sharara sets, tiered shararas, short kurta sharara sets, and ruffled shararas.
Designer Sarees:
Sarees are a timeless classic and popular choice for Iftar party outfits. Embellished and embroidered designer sarees are a great choice for women who want to look elegant and sophisticated on Eid.
If you want to avoid the hassle of draping a saree, try pre-stitched sarees! They are effortless, chic, and glamorous, yet full-desi at heart! Think ruffled sarees, printed organza sarees, ready-to-wear embellished sarees, Zari-embroidered stitched sarees and sarees with belts.
Conclusion
Eid is a special occasion that calls for beautiful and stylish outfits that reflect the joy and spirit of the holiday. Whether you prefer traditional or modern Eid dress styles, visit Indya; it has an exclusive Eid outfit collection online to make you feel confident, elegant, and fashionable.
So, dress up in your favouriteEid outfits, enjoy the festivities, and have a wonderful Eid!